Costa Rica 2005 Kem-Saw Travellers


One evening we were having dinner with Tom and Sharon Sawyer and we were wondering where our next couples trip should be. We really wanted to go back to Costa Rica, so we looked at using our condo for a week. The only place that we could trade into was in Quepos, along the southern Pacific shore. We decided to add a week to the front of the trip, so that we could return to the Arenal Volcano area. Everything came together, We were all able to use our frequent flyer miles and with that, the Kem-Saw travelers, set off on a new adventure.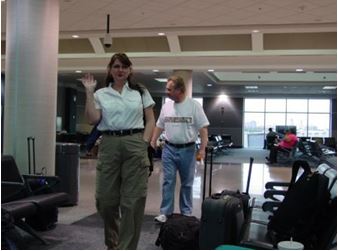 Monday, April 25th:


We left Salt Lake City early in the morning, had a 5-hour layover in Atlanta and arrived in San Jose around 6:30 pm. The airport had changed a lot, in the two years since we'd last been there, but we found a taxi to take us downtown to the Hotel La Posada de Don Tobías. Nita selected that particular hotel because it is right next to the bus terminal where we would catch our bus very early the next morning, to go to the Arenal area. As you can imagine, the $7.50 per person per night cost reflected that it was not in the best part of town. Even though we were protected with bars on the windows, those of us that did not use earplugs did not get very much sleep and Tom and Sharon worried about robbers all night.


Tuesday, April 26th:


At least we were right next to the bus station, where we easily caught the 6:00 am bus to La Fortuna. During the 4 ½ hour, $3.25 ride, we were caught in traffic from an accident and so we arrived about ½ hour late. Once in La Fortuna, we walked down to the Las Colinas hotel, where Nita and Marty had stayed their last time here. We were able to leave our luggage there while we walked about the town and did a little shopping. We were famished, so we decided to break for lunch and had our first "Comida Typica", the typical lunch plate in Costa Rica, with pork chops, potato salad, rice, beans and a fried banana at a soda called La Parada. It was pretty good and very cheap!
Marty had packed his very old "crushable" hat in the suitcase and when he unpacked it, we discovered that you could crush it, but not un-crush it. His favorite traveling hat, which he had for many years, was history. So we stopped and bought him a "temporary" touristy-fishing hat that would protect his tender scalp for the next two weeks. He was not crazy about it, but you have to do what you have to do.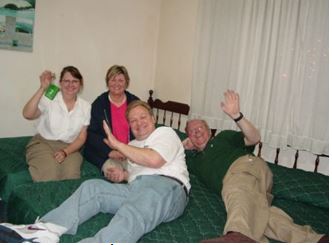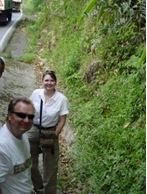 We returned to the Las Colinas and took a taxi cab to our hotel for the next two nights: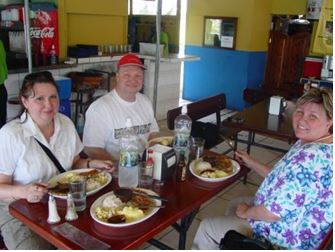 Wednesday, April 27:


The Observatory Lodge is located near the base of the volcano. We thought that $20 was a lot of money for a taxi ride, but after it took 45 minutes and quite a distance on a really bad road, we decided that it was a fair cop. We checked into the hotel and were graciously shown to our shared accommodation,– a "Smithsonian" room with up close and personal views of the volcano from our beds! It was incredible! We were very lucky to have two perfectly clear and warm days, with full view of the volcano, the entire time. Within the first 10 minutes in the room, we witnessed, 2 huge red-hot boulders spewing out of the volcano and rolling down the face of the mountain, to the base (a couple of kilometers from our location!). That was just the beginning. Over the next two days, we saw so many that it became almost common place. There were even several huge "Booms!" that would rattle the windows and create a huge plume of smoke over the volcano.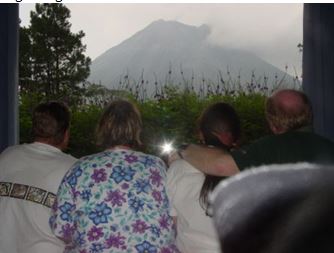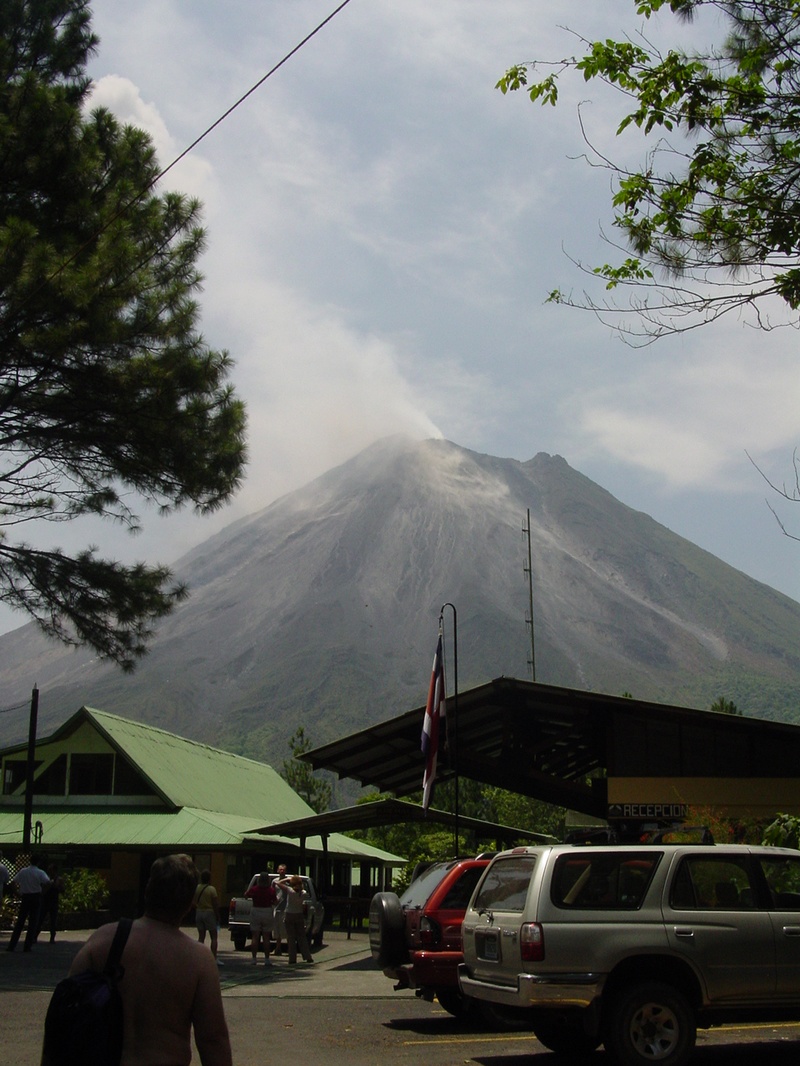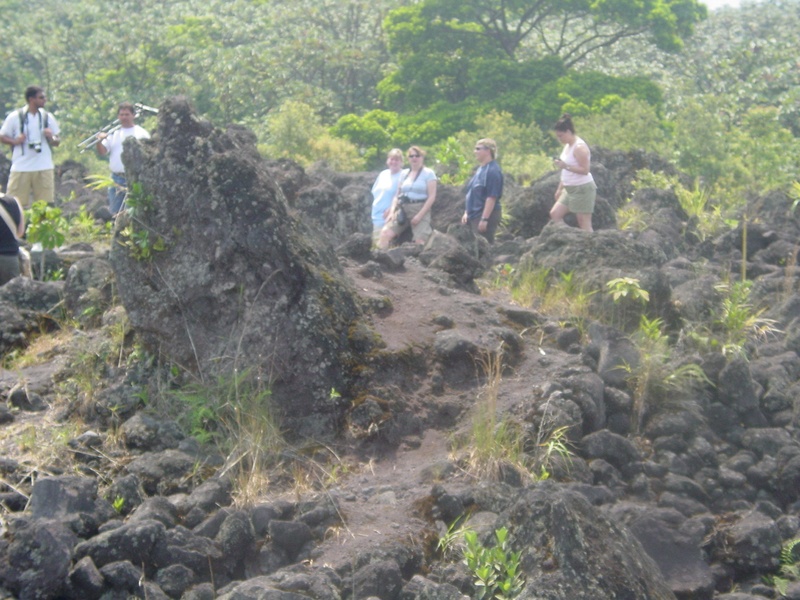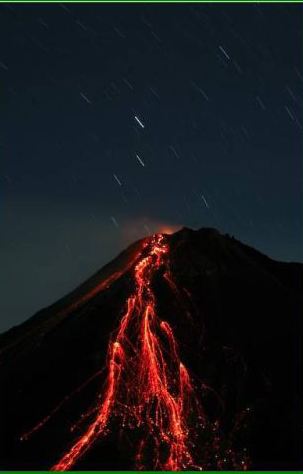 The lodge is situated quite a ways from any other civilization. We pretty much stayed at the resort except for one night, when we ventured to the Tabacón Hot Springs Resort, to soak in the natural hot springs. Tabacón is just incredible! The water comes out of the bottom of the volcano and flows down through Tabacón, in rivers and pools. Each pool of water, has a unique temperature. You just pick the pool that suits you best for a while and then move on. All the while, we were surrounded by wonderful scenery of gardens, waterfalls, rivers, rainforest and fauna. We went to El Novillo, a nearby steakhouse for dinner, where we all had some pretty great steak dinners, for about $7 each, complete with soft drinks!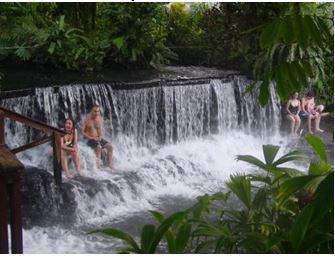 .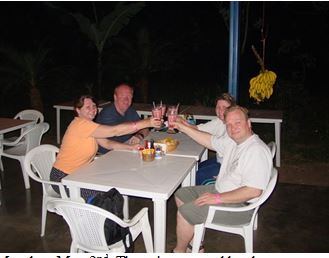 The swimming pool at the Observatory was sooooo fine! At one end of the pool was a wave-less edge (where the water runs over the side of the pool). Beyond that edge was the rainforest with all of its birds, lizards, monkeys, etc. At the other end of the pool was a great view of the volcano. The pool was just the right temperature, and after two days of hanging out in the pool, walking around the rainforest and lava flows, Marty was so relaxed that he felt stressed just to continue the journey! We all just wanted to stay right there forever!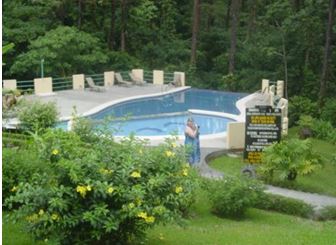 Thursday, April 28th:


But, alas! We needed to continue the trip. So we booked what is called a "Taxi-Boat-Taxi" ride from La Fortuna to Santa Elena in the Monteverde Cloud Forest. They picked us up in a Taxi (albeit very small – but we managed to get all the bags and ourselves into and onto the taxi), and took us for a 30 minute ride to the shore of Arenal Lake where we boarded a boat that took us another 30 minutes across the lake to a van waiting to take us the last 2 hours to Santa Elena. This trip ends up being only 3 hours, where the bus ride around the lake take 8 hours.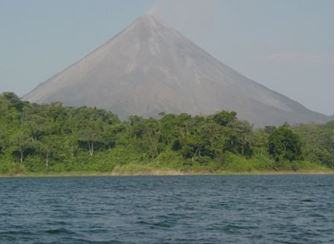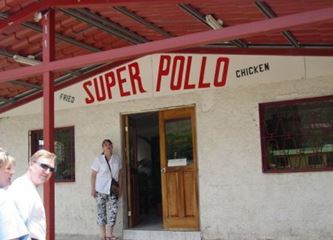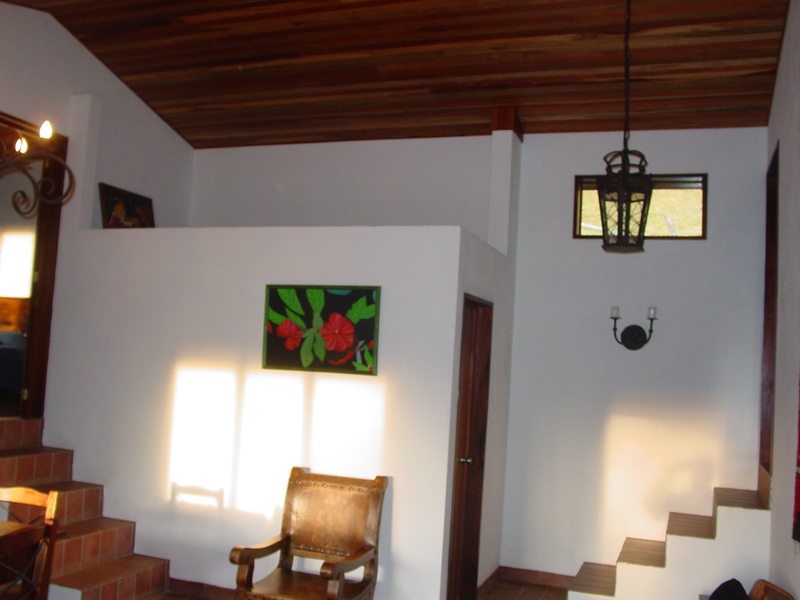 We checked into the Arco Iris Lodge, where we rented a two-bedroom house for the two nights we were there. We had stayed here on our first trip, when they were actually building the house. We went for a walk in the Village of Santa Elena and had some incredible chicken at the "Super Pollo" across the street from the hotel. Biggest chicken parts we have ever seen! Sure wish we had something like that back home!


Friday, April 29th:


Early the following morning, we went to the Monteverde (Green Mountain) Cloud Forest. It is called a cloud forest instead of a rainforest, because most of the moisture comes from the mist of the clouds rather than actual rainstorms. This kind of environment supports a different animal and plant life. Last time we were here we saw One Resplendent Quetzal, a very beautiful and rare bird. This trip, we saw two within the first two minutes of our walk and ended up seeing a total of 5 different Quetzals during the day! The forests of Costa Rica are just incredible and is difficult to describe. You'll just have to go sometime.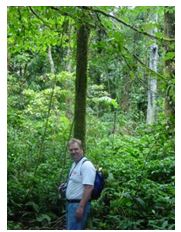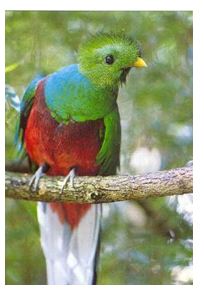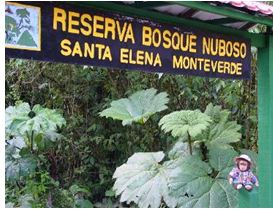 Saturday, April 30th:


Nita and Marty had such a great time in 2003 on the zip lines, that we had to take Tom and Sharon. So we went early in the morning to do the "Sky Trek" adventure, a series of zip lines that you ride on over the top of the rainforest canopy. There was certainly a great deal of hiking and climbing, but overall, it was worth it! Some of those rides were very fast, very long and very high! Afterwards, we took a hike on the "Canopy Bridges", where they have built bridges that span across the top of the canopy. This is where we took our time to look at the amazing foliage that grows in the top of the trees! There is great competition for sunlight and rainfall, so all kinds of plants find their way to the treetops!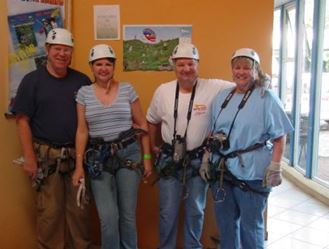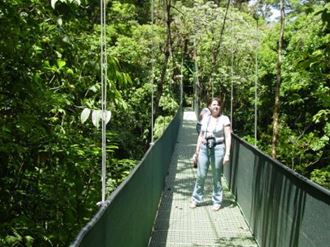 In the afternoon, we boarded another $4 x 4 hour bus for San Jose. This bus was much more comfortable than the one Nita and Marty had taken two years earlier! We arrived at the airport around 7:00 pm and found a couple of taxis to take us to the Coconut House in Alajela (suburb of San Jose). Apparently, we had told them that we were taking the morning bus, so they thought that we were not coming. Nonetheless, they found us a couple of beds, brought us some dinner and we had a pretty good night's sleep.


Sunday, May 1st:


They brought our rental car to the Coconut House the next morning. That was the most expensive rental we have ever done! Even with American Express covering the Collision Insurance, it still cost us over $600 to have the Toyota RAV4 for the week. We rented 4 wheel drive because we heard that some of the roads we were planning on using required them. It was probably true.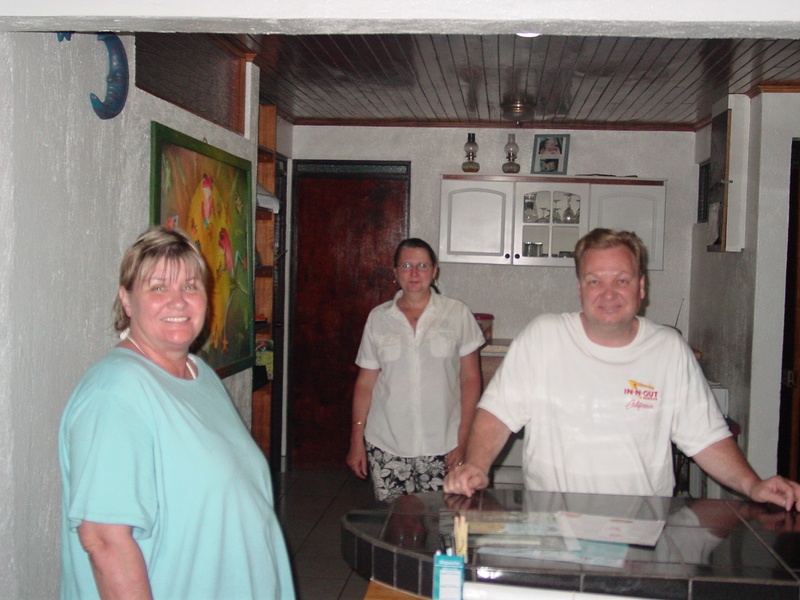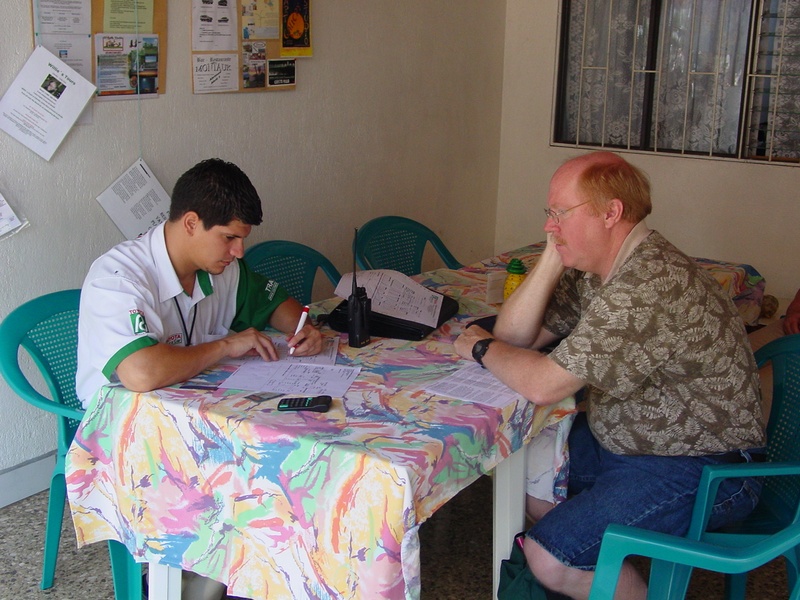 We left our bags at the hotel while we drove up towards the Poás Volcano to the La Paz Waterfall Gardens. We saw that Poás was clouded in, so we decided not to go to the top (great decision!) and spent the next three hours walking around the most incredible Butterfly Gardens and Waterfalls. There were so many butterflies flying around us that we felt that we were inside some animated Disney cartoon! The path to see the seven waterfalls was almost all downhill, with a shuttle bus waiting for us at the bottom to take us back up to the Lodge. One interesting thing was that when the old bridge over the river collapsed, they left it where it fell and built the new bridge right over it!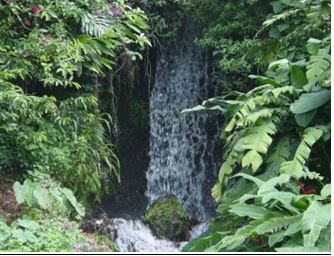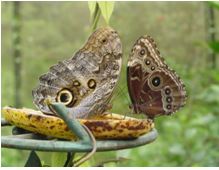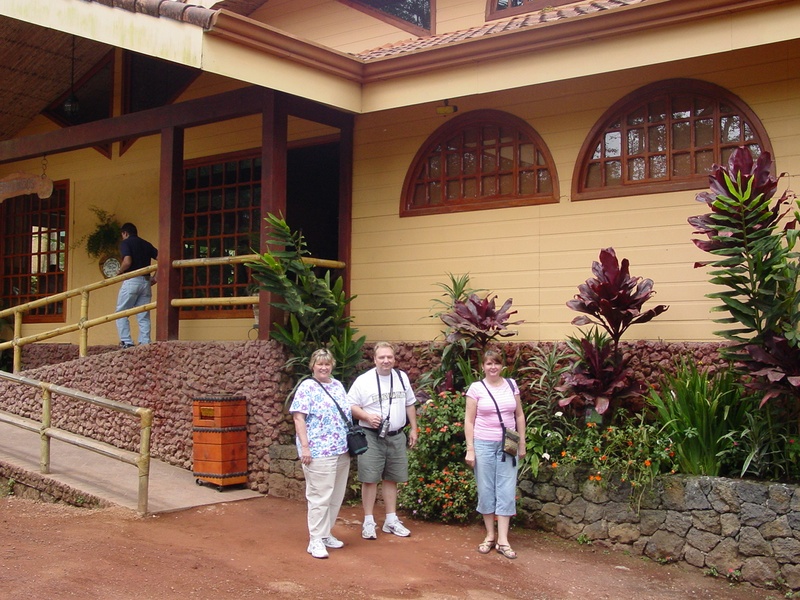 We drove back down to Alajuela to get our bags, but got disoriented and couldn't find the hotel. We got caught in the middle of a HUGE downpour and ran into a May Day parade, complete with horses. They were running in about 6 inches of water, so we thought we were witnessing a flash flood. But it was just a rainy parade. We finally found the Coconut House, loaded the bags into the car (still in the deluge) and took off for the southwest coast. The rain stopped about 30 minutes later. We got Jacó on the west coast just in time for the sunset. We wanted to be there much earlier, because now we had a couple of hours drive in the dark. Costa Rica roads are notorious for having named chuck holes, not having painted lines, and having very narrow bridges and pieces of highway. It was pretty hair raising in the dark, rainy, narrow, beat up roads.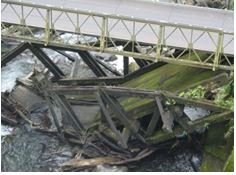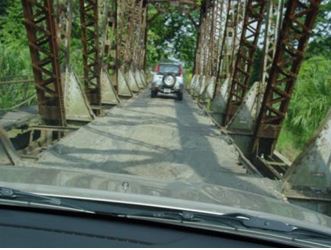 We only passed the turnoff to the Pueblo Real condo, in Quepos a couple of times, but finally got some directions and made it! We had reserved a 1-bedroom unit that sleeps 4 people. We were told that the 1-bedroom unit they had for us only slept 2 people! This would not do. We showed them our paperwork that clearly said 4 people, so they made us a deal for a 2-bedroom unit for only $50 more for the week. We were lucky to find a restaurant out on the highway that was still open.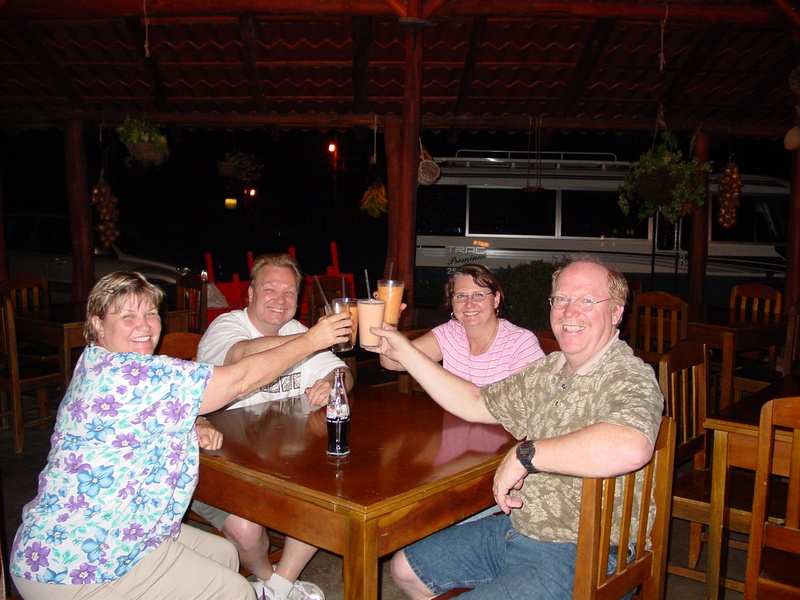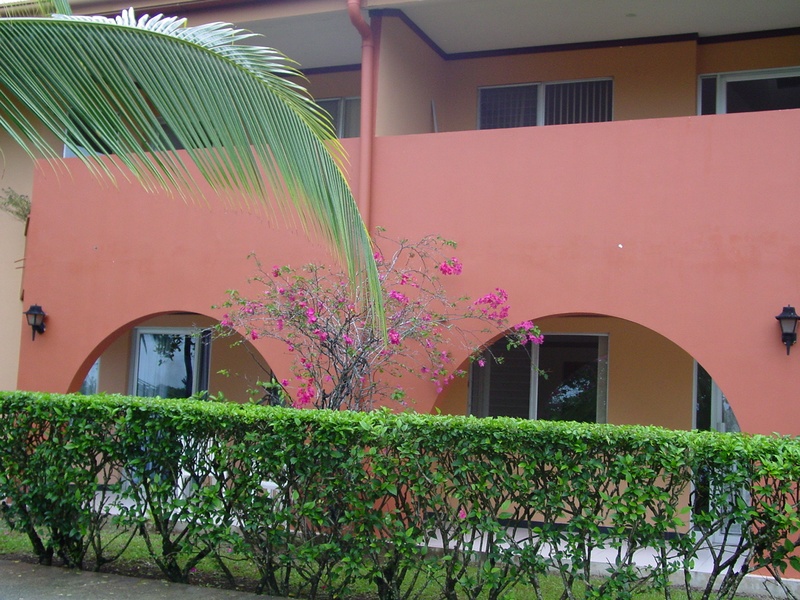 Monday, May 2nd:


The rain stopped by the next morning. The restaurant across the street was just getting going at about 10 am, so we had some breakfast. After she charged us about 3 times what we were expecting, we decided not to eat there any more. Sharon wasn't feeling too good, so Tom, Nita and Marty took a ride to downtown Quepos to get some lunch. The Comida Typica thing was beginning to get old. Nonetheless, we had our mandatory serving of rice and beans and then went back to the Condo where we basically just hung out at the pool. (which was warmer than the 90 degree air!) We went in search of a different restaurant for dinner and once again the chicken was really good!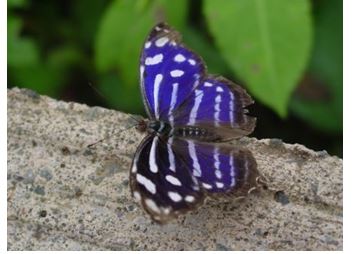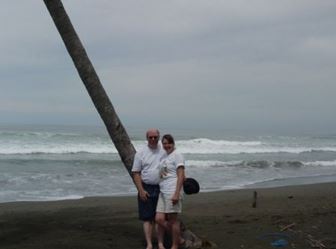 Tuesday, May 3rd:


Sharon stayed behind again today. Tom, Nita and Marty, took the free boat shuttle over to Isla Damas – an island just across the estuary from the condo. It had really nice black sand beaches and three dogs that really tried hard to make us feel like we were their new owners. The Beach was deserted except for three guys who were walking near the water and each was carrying a bag over their shoulder, Suddenly they stopped and approached us, we were a little wary, but then they greeted us with big Tico smiles and gave us a bunch of fresh mangoes!  Pura Vida!


Wednesday, May 4th:


Sharon was feeling better, so the Mangrove Tour was our goal for the day. A mangrove is a series of small streams that cut through the rainforest. The best way we can describe it is by referring to the Jungle Cruise at Disneyland. Only this is real! We saw snakes, all kinds of birds, and a whole bunch of white-faced monkeys! They were a lot of fun, and they really enjoyed Bongo and Mooseman. The alpha male really liked looking at himself in a mirror that Diego, our tour guide, brought along.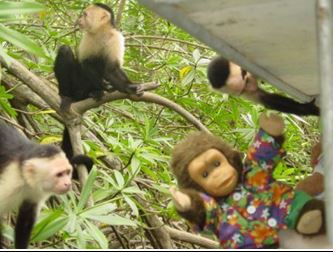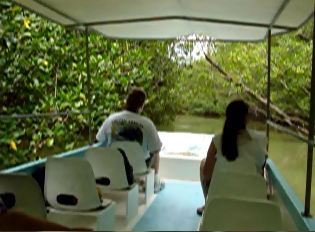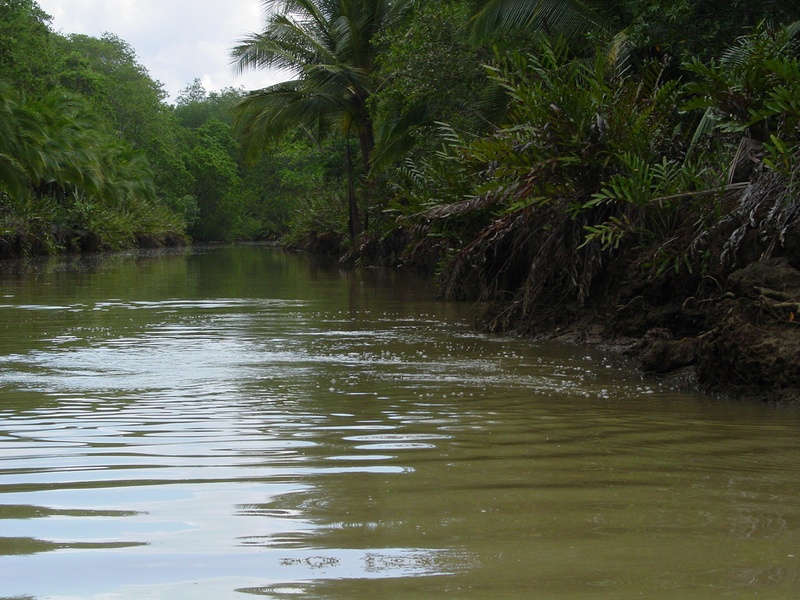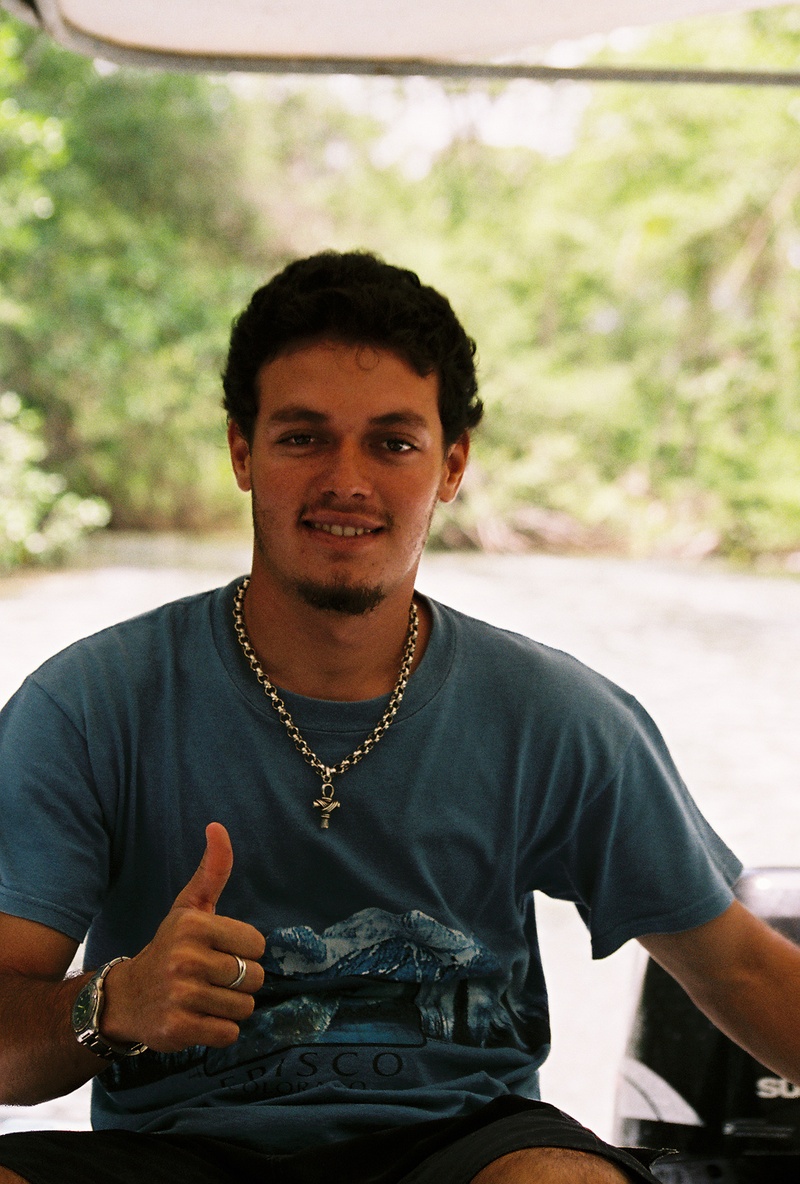 Thursday, May 5th:


We awoke to find a crocodile right on the shore outside our condo! He was "sharing" some fish heads with some birds – but I think he ate what he wanted and then left the remains for the birds to dig at. Sharon had a relapse and Tom had to study, so Nita and Marty took the car and headed for Manuel Antonio National Park. That place is incredibly beautiful and has some fun wildlife. In addition to more white-faced monkeys, we saw a Coati Mundi (Kinda a cross between an anteater and a raccoon), a chameleon, a variety of birds and even some three-towed sloths.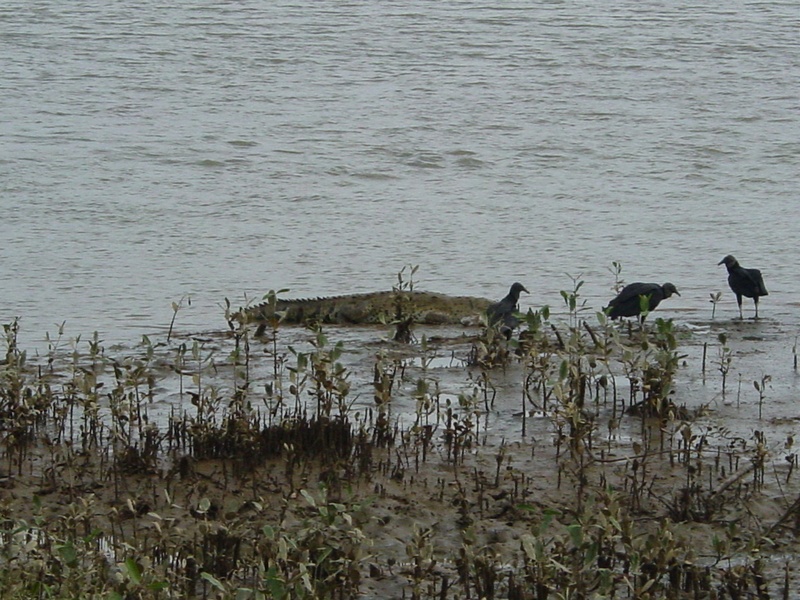 Friday, May 6th:


This was a repeat day. Tom and Sharon really wanted to see the Park after we had told them all about what we had seen, so we all piled into the car and went back to Manuel Antonio. We pretty much saw the same things  as yesterday (except for the Coati) and we all took a refreshing swim and relaxed on one of the most beautiful beaches in the world.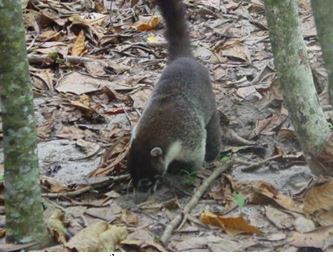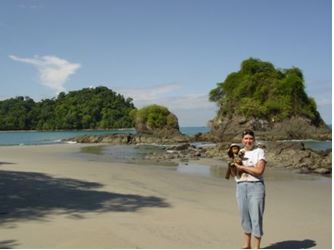 Saturday, May 7th:


Tom and Sharon wanted to hang out around the condo, so Nita and Marty took the car and headed south. We had heard that property was still somewhat affordable down towards Dominical, so we drove out past the Quepos airport, and found the dirt highway to go south. In most cases, the dirt road was actually in better condition than the paved roads. The bridges get a little scary, though! We were about half way to Dominical, when Nita needed to make a potty stop. So we pulled into a "Soda", where they sell… what else? Sodas!
When we pulled out, we noticed a sign advertising Ocean View Properties, so we followed the signs and found a crew building a house up on the hill. It was a very nice area and great view of the jungle and ocean. We spoke to the workmen there, and one of them, Freddy, offered to show us some property down by the beach that he knew was for sale in Matapalo. So we spent the next couple of hours with Freddy and looked at several properties. There was one that caught our fancy, with a fixer-upper house, of-sorts on it. They were asking $80K for the acre or so of land and the house, just across from the beach and supposedly it was titled land.. Hmmm...Who knows, maybe?


We gathered whatever information we could to make contacts later and drove back to the condo, where we met Tom and Sharon and went out to dinner at the Best Western in downtown Quepos. Not only were their Piña Coladas the best we have ever had, but their food was cheap and great. Too bad we found it on our last night there!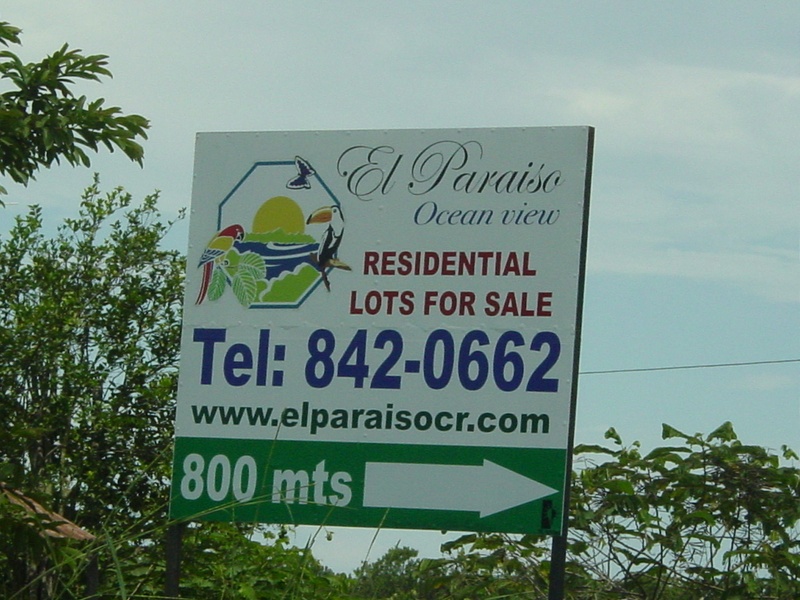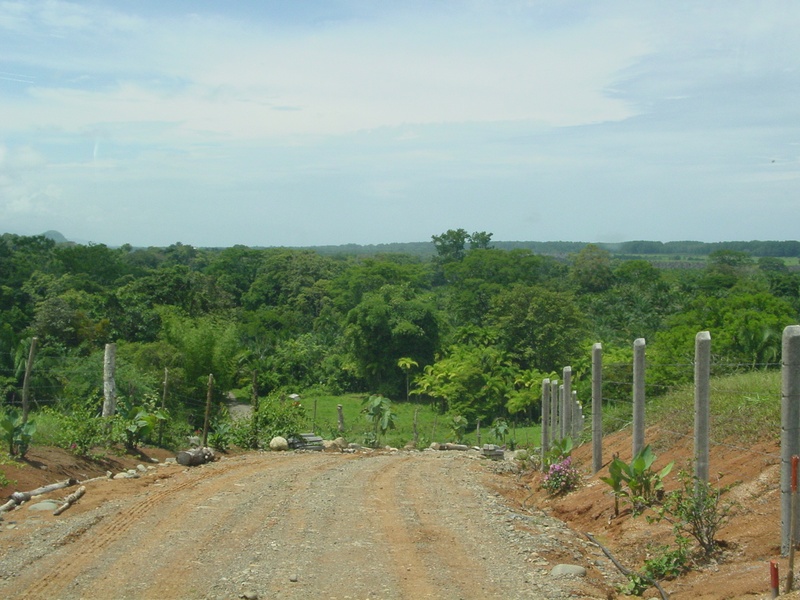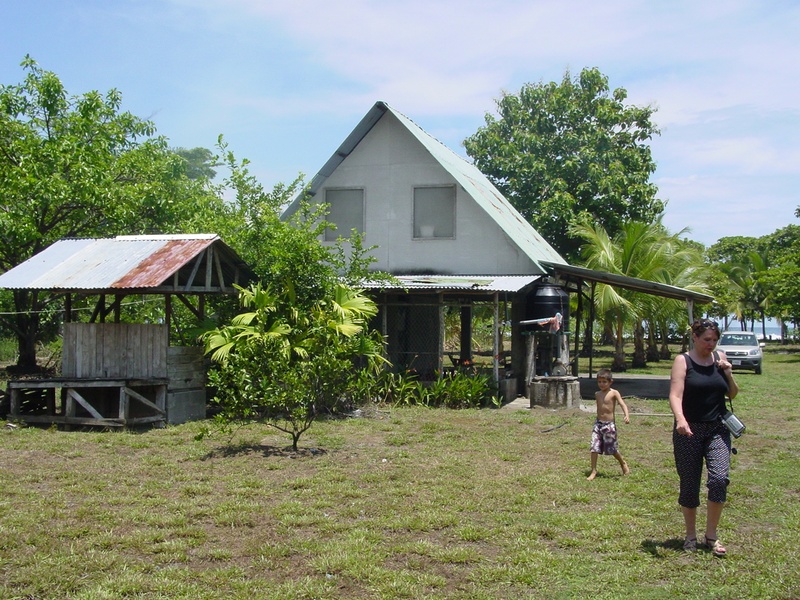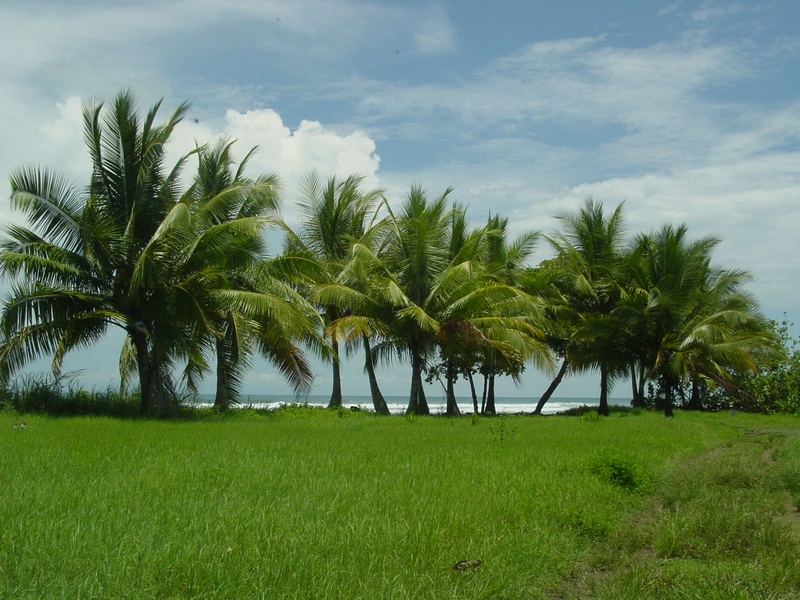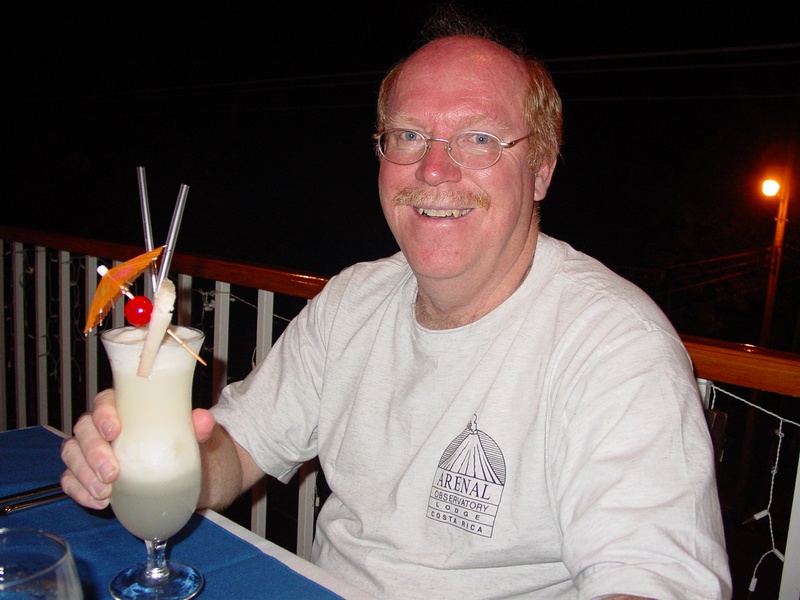 Sunday, May 9th:


We packed up and headed back north. The road was so much easier to negotiate with sunlight and without the rain! We stopped briefly at Playa Hermosa to watch the surfers. Our next stop was Crocodile Bridge, where there are dozens of HUGE gators in the river below the bridge. Quite the tourist trap, but it was cool. A big truck came by as Marty was walking out on the bridge and blew his new ugly hat over the bridge and down into some grass near the man-eaters. Nita went to the guy at the shop at the end of the bridge and somehow convinced him to risk life and limb for that stupid hat. That was very nice of him! But due to the time that took, we missed "show time" when they dropped a bunch of chicken over the bridge for the crocs to fight over. Come to think of it, I bet the guy that got my hat was very glad that the crocs were distracted!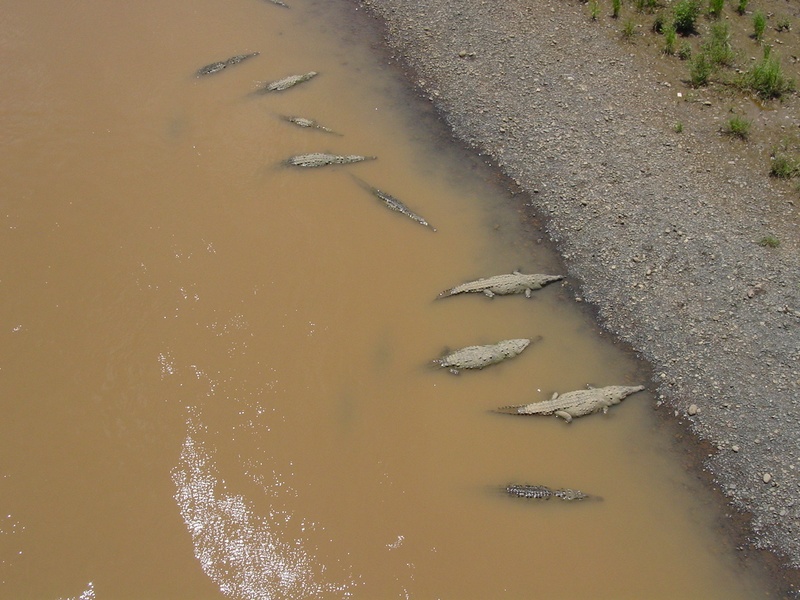 Just south of the bridge is the Carara National Park. This is where we saw a whole bunch of Scarlet Macaws, a poison dart frog (almost stepped on him in our sandaled feet!) and some beautiful lizards. We got to see about 10 Macaws in one tree making a fuss about each other. Unfortunately, the camcorder went on the blink at Playa Hermosa and we didn't get any video.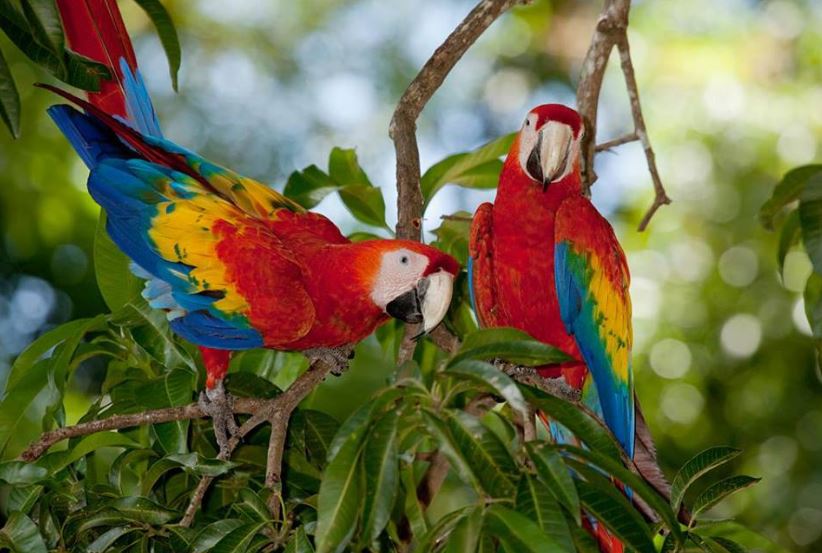 As we were getting close to San Jose, it started to rain a bit. Nita said something like, "Well, at least it is not a Deluge, like last week!" At that moment, the skies opened up and it was a Super-Deluge! So much so, that we had to pull over and wait it out in a Mexican restaurant. We finally made it back to the austere Coconut House, where we spent our last night, dreaming of our next trip to Costa Rica!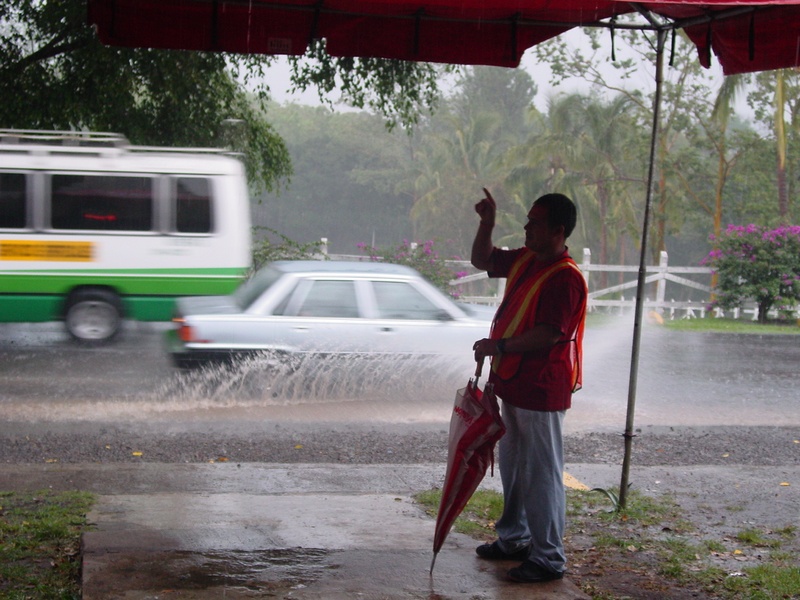 Monday, May 10th:


Really early car check in, 8 am flight to Atlanta where Tom took a different flight to New York, and then on to St. Louis and Salt Lake City. We had a Great Trip and for the Kemsleys, there is lots to think about...Heck...we really may just up and move to Costa Rica!