The First Costa Rica Adventure 2003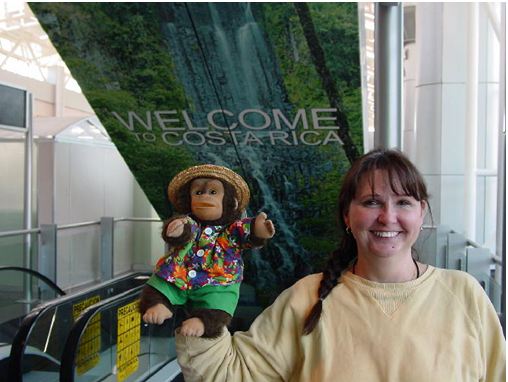 In mid-January, Marty realized that he had a valid international airline ticket on Delta, that had to be used within two years. The original flight was supposed to be to Japan, in April 2001, but because there were other arrangements made, this ticket had gone unused. When he called Delta, to see about where he could go with it, they informed him that it had to be used by February 5th, 2003 or forfieted because that date, would be the two year anniversary from when the ticket was purchased! He had thought he had until April to use it..Oh my Heck! So that threw us into a tizzy fit, trying to find a flight to any where, that would be around the same value as the cost of that ticket and where Nita could also use her frequent flyer miles. We looked at Peru, but couldn't complete the trip by February 5th. He could get to Acapulco, but Nita couldn't. Finally, Nita found us a flight to San Jose, Costa Rica. We had never seriously looked at going to Costa Rica, so we dug out our books and found that this little country has it all – beaches, rainforests, exotic wildlife and live volcanoes. Let's Go! We decided that we would save the beaches for our Maui trip in March and throwing caution to the wind, we booked our fight to the rainforest.
Monday, January 27th:
We caught the red-eye special out of Salt Lake City at 5 minutes to midnight, bound for Atlanta.
Tuesday, January 28th: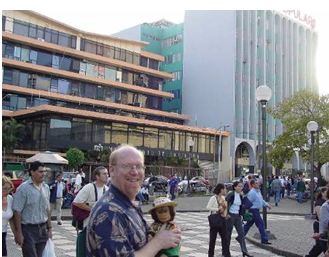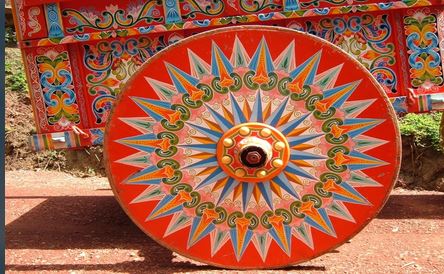 By 5:30 am, we arrived in Atlanta with a 4-hour layover ahead of us. After napping on the only arm rest-less chairs we could find, we caught our 10:30 am flight to San Jose. The flight was pleasant, with a nice meal and a free movie. Once we got out of the airport, we took a taxi through the traffic jams of the city, to our Bed & Breakfast, the La Amnistad Inn. We dropped off our bags and walked to downtown. There were pretty flowers everywhere and nice latin plazas. We found the main cathedral across the street from a plaza that had a "band stand" set up for some weekend entertainment. There was a Bolivian band playing outside of the park. The birds were singing their hearts out! The cathedral had some great stained glass and some pretty nice architecture inside and out.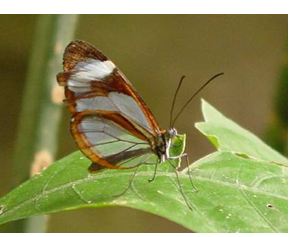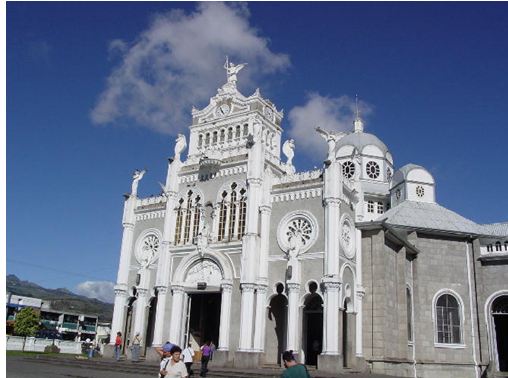 We really liked the street stands selling all kinds of things, including fruits and vegetables, We picked up some bananas for about a nickel each and then we walked toward the Mercado Central – the main market place, through the busy shopping streets. We found a McDonald's (or as we call it the American Embassy) with an old 1956 Chevy pick up truck on the roof for sale.We guessed that is how they keep cars from being stolen. We passed a store that had all kinds of different cake toppers – not just for weddings, but births, birthdays, parties,and any other kind of celebration. At the Central Marke,t we didn't buy much, but it was fun to see the wonderous variety of goods for sale. There was one store that had animals – dogs, cats, chickens, chicks, doves, pigeons – we think some were sold for pets and others for raising as dinner. There was also an area that sold all kindsof herbs and medicinal plants. We enjoyed a great roasted chicken dinner (cost 800 colones, about $5 total (with drinks for the two of us) and then we walked back to the Amnistad, to get some sleep. On the way, we passed yet another Bolivian band, playing El Condor Pasa. Costa Rica is on the same time zone as Texas.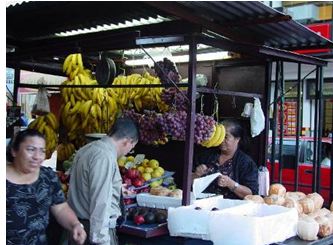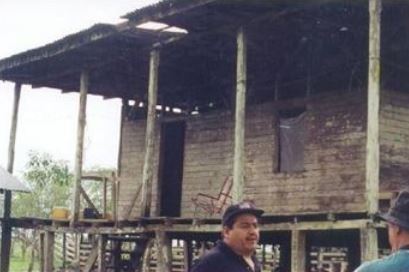 Wednesday, January 29th:
 After breakfast, we walked downtown to catch a bus to Cartago. Along the way we saw some great colonial architecture and some art – a marble carving of tigers and some Don Quijote paintings on the side of a house. After a little trouble finding the right bus stop, we were soon on our way to Cartago. We had heard about a tropical garden near there so we thought we would go visit that. We tried to find a way to go see one of the local volcanoes, but apparently buses only go there on weekends. We stopped in Cartago at the Paroquial ruins of an Abbey built in 1575, which was destroyed by an earthquake in 1841, rebuilt and the destroyed again by another earthquake in 1910. They never rebuilt it again. But the ruins were quite beautiful.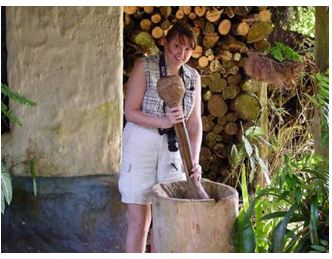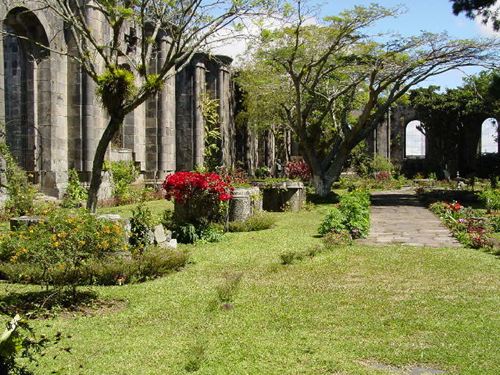 The next bus dropped us off about a mile from the Lankester Gardens. It was a long, but nice walk. The gardens were such a nice change from the urban grind of San Jose. The vegetation (moss, ferns,orchids, etc) were incredible and we got to see several species of butterflies.There was one little cabin in the middle of a bamboo forest, that had a huge "mortar and pestal" where they used to grind coffee. They also had a pretty incredible cactus garden, with species we have never seen before. We spent a little more than an hour there and then started the long dusty walk back to the bus stop.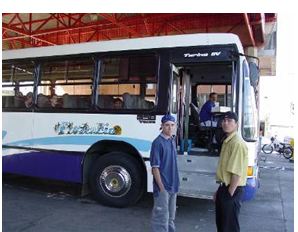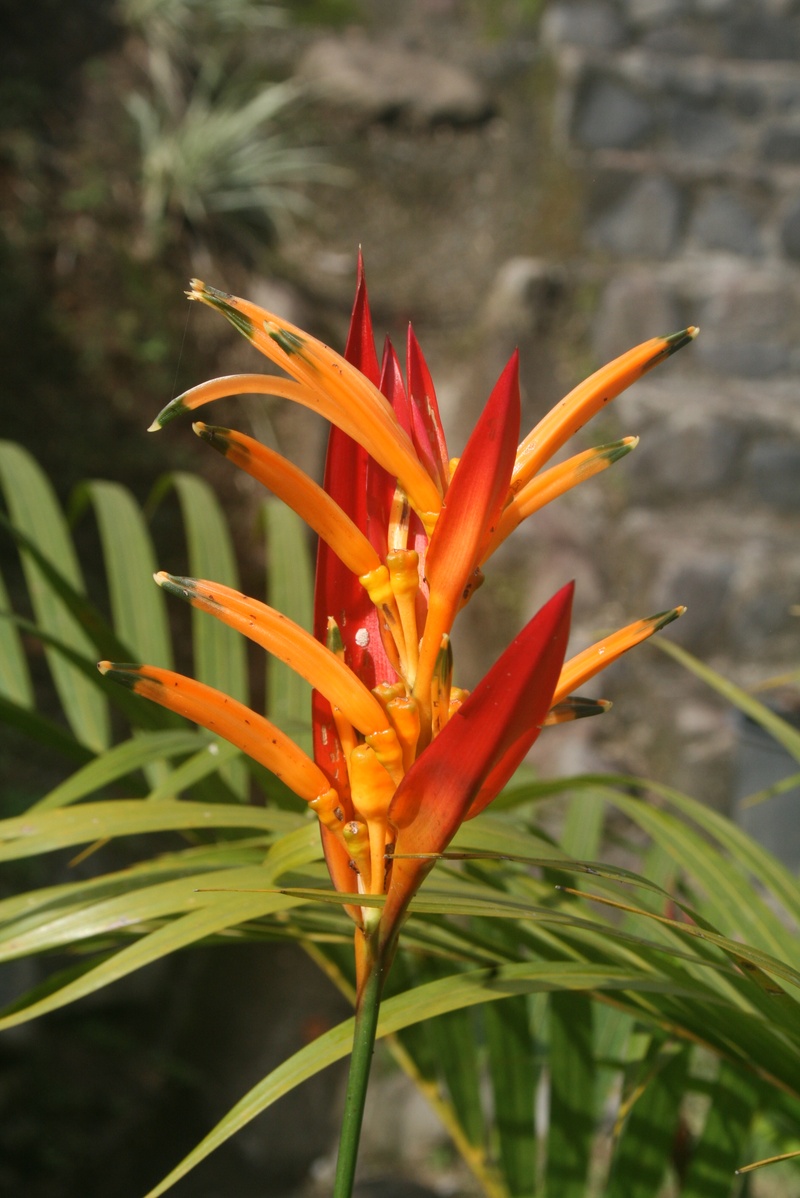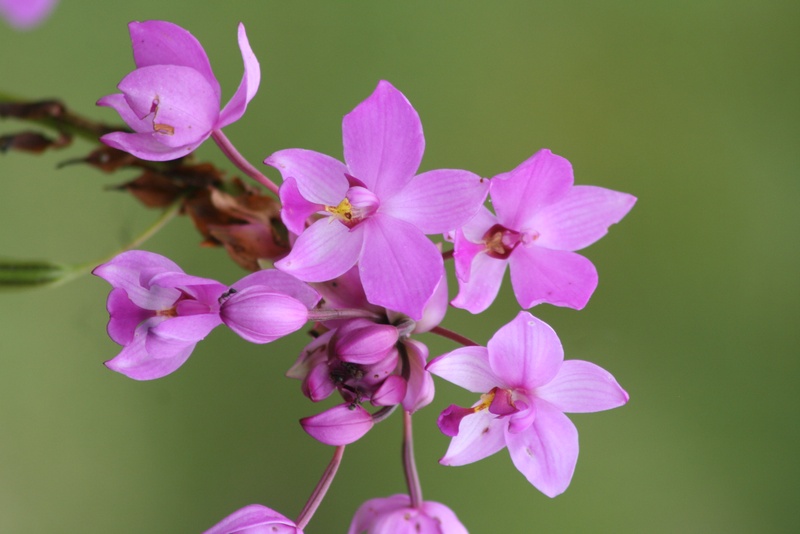 It was really hot and a very kind man stopped and offered us a ride, not only to the bus stop, but all the way back to the Cartago Cathedral – Our Lady of the Angels, (also known for the Black Virgin). On August 2,1635, The Virgin Mary, reportedly appeared to a young woman and granted her desires. Ever since then, people have come from all over the world to see the statue of the Black Virgin and to make their requests. Once they have recieved their blessing, they return to the cathedral to make an offering. The offering is a often some token representation of the blessing called a Milagro. For instance: If you asked for your arm to get better and it did, then you would leave an offering of an arm – not a real one, but a silver charm. They have all of the offerings on display – feet, arms, legs, heads, hearts, livers,kidneys, guns, boats, planes, footballs, shoes, trophies, houses, etc. and awards from winning competitions and athletic events. They sell the tiny charms in nearby stores. Marty bought a foot, as a token of his broken foot, which happened a few years ago!
On the way to the bus station, we found a monkey bar for Bongo (our monkey puppet travel mascot) where he could unwind a bit. Then we made our way back to San Jose and went to the Gold Museum. We were expecting to see a lot of great pre-Columbian gold, but it was very disappointing. It has a bunch of discs that the ancient inhabitants wore as symbols of royalty and military might, but not much else.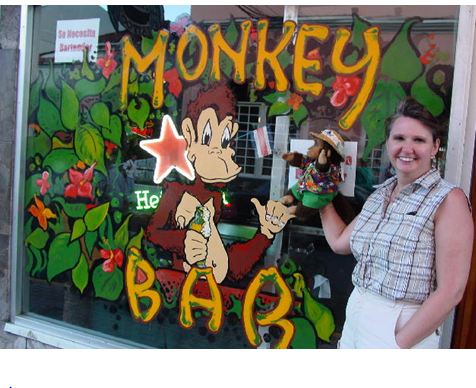 Thursday, January 30th:
We caught the 8:30 am bus to La Fortuna. The bus seats were extremely hard and after the first hour our bottoms were totally numb, and we still had four more hours to go! We were warned about the bad roads in Costa Rica, but the roads to La Fortuna were only slightly torn up. The bus stopped for every person, dog or goat along the way, that needed a ride. But the price was right - $3.45 per person! We could not believe how cheap everything was in Costa Rica! Even when you had to pay the "tourist admission" to places (locals paid about 1/3) it was still reasonable.
 We arrived at La Fortuna at about 1:30 pm. We had no problem finding the Las Colinas Hotel – it is the only three-story building in town. We had room 33 on the third floor, facing the east side of the Arenal Volcano – a LIVE volcano! The shower head was one of those kind with the in-line heater. The slower the water comes out, the warmer the water is. Scary... more like a suicide shower, with the bare wires exposed! After a delicious pork chop lunch, we relaxed a little and booked a tour with our hotel receptionist, Wilmer Flores (also a tour guide with Green Mountain Tours.
 We left in the late afternoon and drove to the west side of the volcano where we found a couple of toucans sitting and singing in a tree. Nita was so excited to see the toucans in the trees that she said, she could now go home satisfied.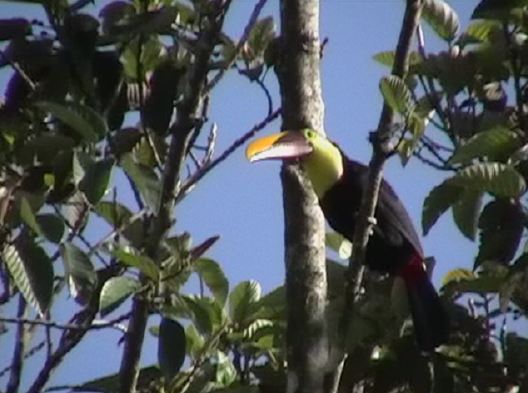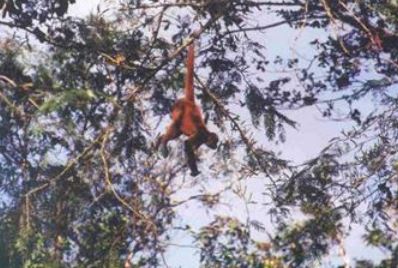 That was before we turned around and she saw the spider monkeys hanging around in the trees! It is amazing how they use their tails! They were a lot bigger than we thought. Unfortunately, Bongo decided to stay in the hotel! For the next hour, we hiked through the rainforest at the base of the volcano, seeing a lot of great vegetation and many types of birds, parrots, lizards, howler monkeys (who make this amazing howling sound) and their babies, a wild turkey, a marmot and other animal life. We found a very long trail of leaf-cutter ants carrying their leaves to their nest, all in a straight line just like in the movie Antz.. I'll write more about them later. There was this Fig tree that had an amazing root configuration at the base. The roots were taller than we are!
As darkness fell, we drove up the road and found a nice place to watch the volcano in the darkness. It was pretty cool to stand there and watch the red-hot lava rocks being spewn out of the volcano and rolling down the mountain side. As they fell they would explode into fireworks on the way down. The volcano has been active since 1968 and puts out a large amount of very hot lava daily.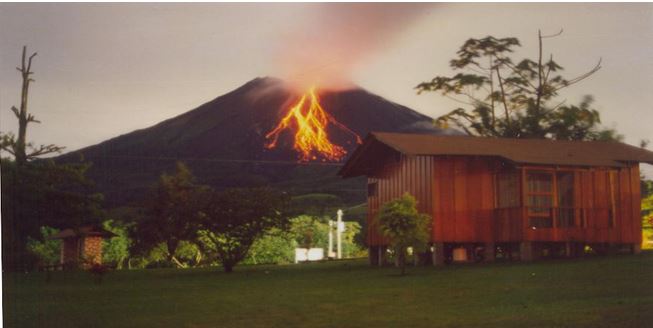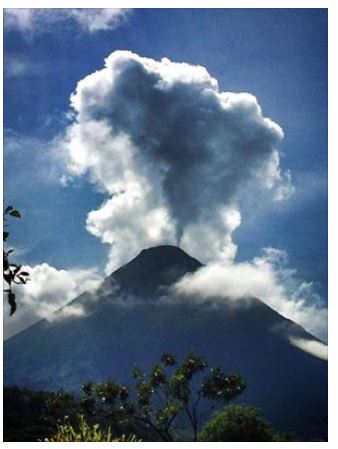 There are several hot spring resorts in the area, but Tabacon, the most exclusive, is where we went next. The whole area around Tabacon, was destroyed about 15 years ago in the last big eruption. Anyway, we had a great time sitting under the hot water falls and swimming in the hot pools. The pools varied in temperature and they got cooler further down the river. We stayed for about 2 hours and after we enjoyed a very nice buffet dinner, they took us back to the hotel.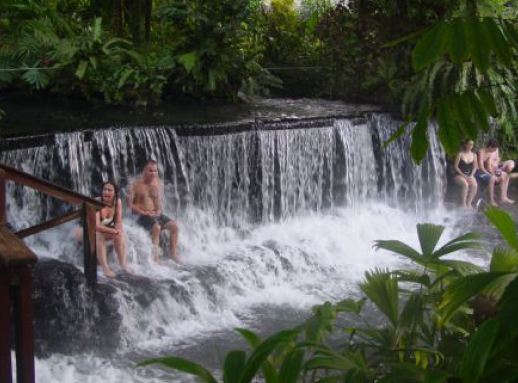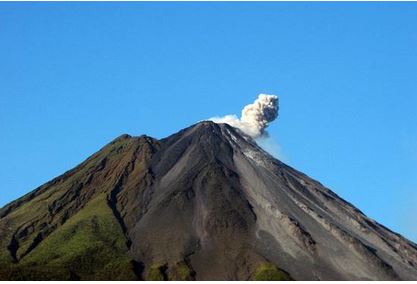 January 31st:
Breakfast was included in our $25 room, so after we ate, we took another tour, this time to the Rio Frio in the Cano Negro National Park. The tour guide was Randy Rojas, with Selva Tour Arenal. There was another tourist and an American that Randy had just hired who was going along to learn the ropes. Randy took us in his personal car rather than a minibus. Our first stop was at a bridge about an hour out of town. There in the trees was a sloth, just hanging there watching us. He was actually pretty cute!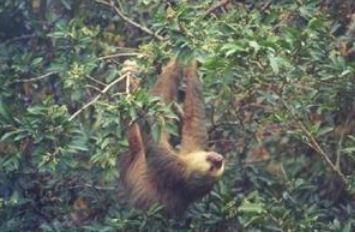 Then when we turned and looked at the trees, we saw dozens of iguanas! There were too many to count and ranging in all sizes, some of them were pretty big We never realized that they just hung around in trees like that! Nita joked that they were plastic and just placed there for the tourists! Randy told her "No es Disneyland!" Randy showed us his home town, where his father and brothers live and the sugar cane plant that is the heart of his village. After another hour and a half of driving, we arrived in LosChiles, right next to the Nicaragua border. On the way we saw several pairs of toucans flying together. We learned that they mate for life and when one of them dies, the other one shortly follows. How sweet and sad at the same time.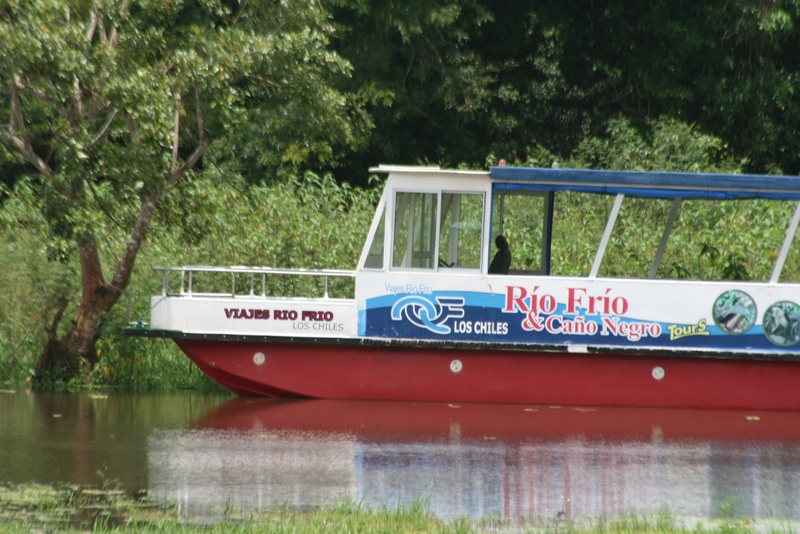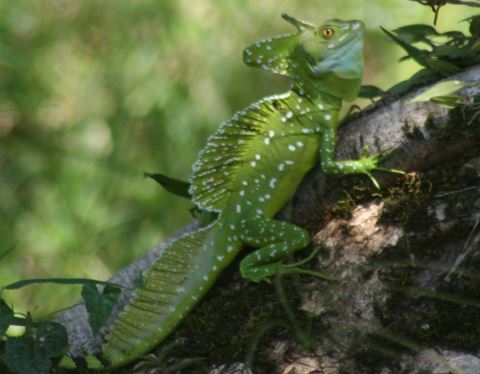 We boarded a small boat and started up the Rio Frio. This place was amazing! We saw so much wildlife, I do not know where to begin. Too many species of birds to mention, but including egrets, owls, herons, kingfishers, swallows and some really strange and big ones and I don't know what they were. There were also some very pretty small ones. There were alligators everywhere – on trees, on rocks, in the water and on the shore. We saw howler monkeys in the trees, howling at us – this time we had Bongo with us and he posed for a Kodak moment. We saw a Jesus Christ lizard, too! No, it doesn't get its name because that is what people yell outloud when they see it! It gets its name because it actually walks on the top of the water! Now how cool is that?
As we progressed up river, we saw a sloth, three turtles resting on a log, some very small bats clinging to the bottom of a tree (which we thought was just moss on the tree), and some jumping fish – that would jump out of the water and make a big splash. At about noon, we arrived at Randy's "restaurant"– a nice picnic area along the shore, to enjoy the lunch he brought for us. It was a typical" Tico" lunch with rice, beans and potatoes. Of course.. it started to rain two minutes after we started to eat, the first rain we'd seen on our trip so far.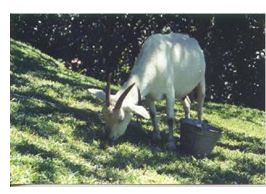 After we scurried back to the boat to get our umbrellas, he took us a little further up the river to a place where we saw a gigantic tree, like the one we saw earlier at the base of the volcano. These roots were probably 10-15 feet tall (or more) and were a great place for bats to live. By now the gentle rain had become a tropical torrent which came right down through the thick canopy and weall got pretty wet.
.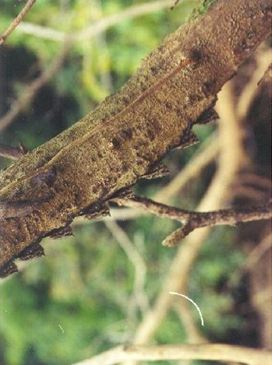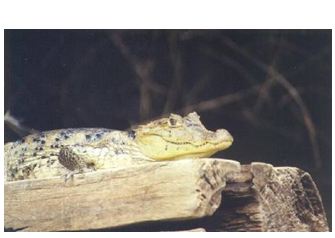 Next, Randy showed us a chocolate tree (yum!) and a termite nest. He also showed us how monkeys use sticks to gather the termites to eat them. Of course, the termites did not like someone poking at them with a stick and started swarming all around. It was an incredible sight.
On the way back down the river, we stopped at a house, where the people have lived since before it became a National Park. They opted to stay and continue to live there without running water or electricity. Their house is built upon stilts, so as to be above the river during the rainy season. They have all kinds of farm animals. These people were friends of Randy's and a young boy who was at home gladly showed us around. The kitchen was in a separate building and weentered, we found some homemade cheese curing in a baby bathtub, covered with flies..yuck! We thought it was pretty funny that even though there was no electricity.. there was still a battery operated TV blareing in the kitchen!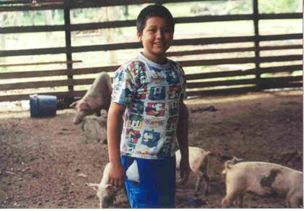 The boy captured a baby pig and got it to squeal for us. Too Funny! And he showed how they fill barrels with water and place them up on platforms to give them their running water. They live an interesting, yet difficult life, there on the river. We returned to the starting point and got back into the boat and finished our tour. After we got back to the car, we saw a man walking down the street with a parrot on his shoulder – I guess it is a very common sight there, but we were excited. When we got back to his home town, Randy stopped and without a word, got a machete out of the trunk. Well that gave us a moment of pause..then he walked into a field of tall weeds and cut some sugar cane for us to try. We continued on with a little tour of his village.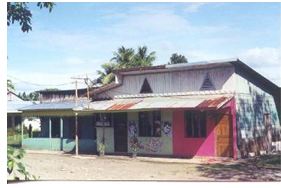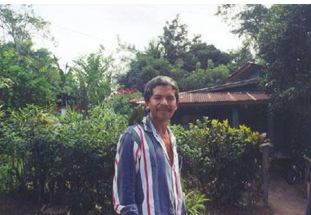 There were obvious remants in the area of the Sandinista war in Nicaragua and a lot of obvious poverty, in Los Chiles. We stopped at a flea market on the way out of town and bought a few things for the grandkids.Then we stopped at the town dance hall, right next to the river San Carlos, where he told us about the alligator attacks that happen in this river all the time. We did not go swimming! But we did go out on an old foot bridge over the water, It was scary but kinda fun.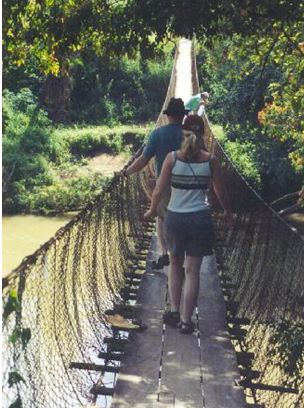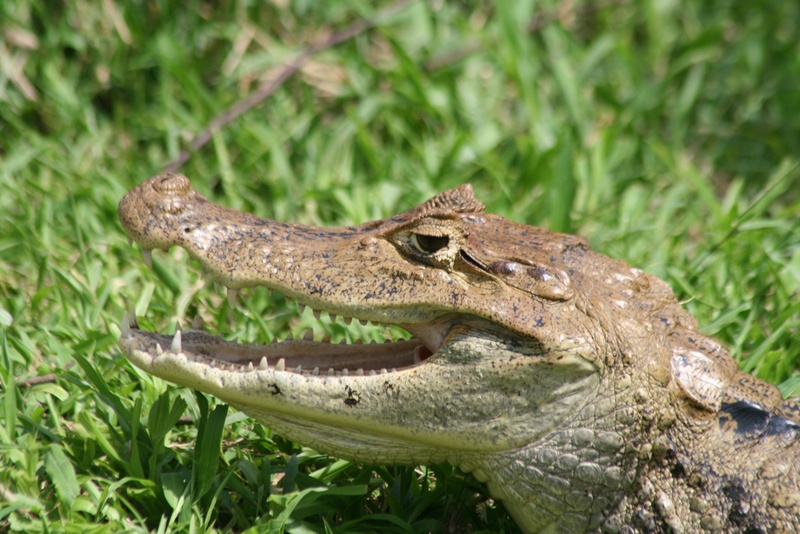 It was there that we learned of the hazards that face the iguanas in the trees. One false move and they fall into the river to become alligator lunch. We found another parade of leaf cutters along the edge of a street curb, it went on for blocks!
Randy drives pretty fast and unfortunately, on the way back to La Fortuna, we hit a dog. It was a very sad moment for all of us. We were lucky enough to make it back to La Fortuna before the little craft shop across from Randy's office, closed and we bought a couple of tiny hand-painted ceramic pieces. After a break back at the room, we saw the best view yet, of the volcano – the clouds were just hanging around the very top of the summit like a summer hat.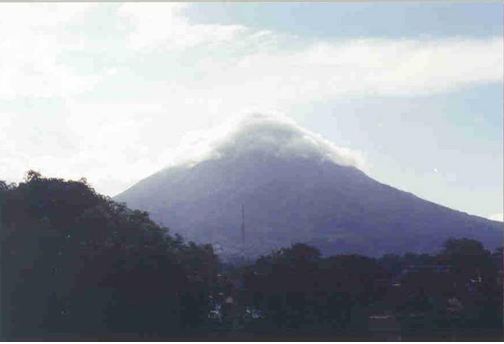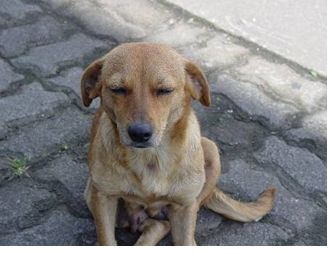 The church was having a concert since it was Friday night and the town was full of people. We had heard about a very nice restaurant called Nene's, near Randy's office, so we headed over there for a filet mignon dinner. Not only was it pricey by Tico standards, ($18.00) but the meal wasn't all that great. So we decided we'd stick to the really cheap regular tico meals from then on. As we strolled along the streets back to the hotel, Nita made friends with small a brown female dog that obviously had puppies but probably didn't have any milk to feed them because she was starving. We named her "Morena" (brown in Spanish) and went to the corner market to get her some tuna. Before we left La Fortuna, we gave Wilmer about $10 and made him promise to take care of her and feed her.
Saturday, February 1st
After breakfast we waited around for our "taxi-boat-jeep" excursion to start. We were heading to Monteverde, around the other side of the volcano and on the other side of Lake Arenal.The bus ride costs about $2.75 each, but it leaves at 7:30 am and goes to Tiliran on the north side of the lake and then after a 4-hour layover you'd finally arrive at Monteverde .. about 8 hours after you'd leave La Fortuna. For $17 per person, we took a taxi to the lake, rode a boat across the lake and then took a Jeep up to Monteverde – and it only took about 4 hours. It was about a 20 minute ride to the lake. The boat ride was wonderful, with a great views of the volcano, the rainforest all around and the grazing lands that have been cleared for cattle. After about 45 minutes, we arrived on the other side of the lake where we had to wait for almost an hour for the next Jeep to show up. While we waited, Nita walked around and visited with the cows and squirrels.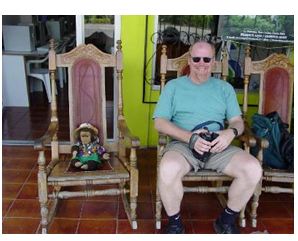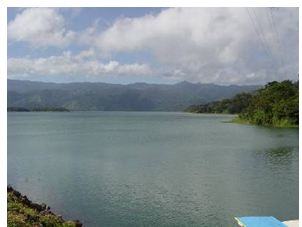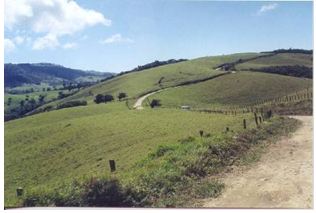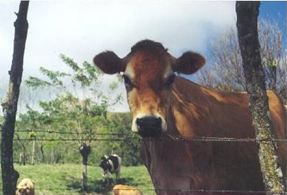 The road to Santa Elena (in Monteverde) was about as rough as any road on earth (and probably on the moon, too). It took us about two hours to go 30 miles .Every town in Costa Rica, has three things: A church, a school and a soccer (futbol) field. About halfway to Santa Elena we came across the last Jeep that had left – it had a broken rear axle. We stopped to see if we could help and we all sat closer together and let the stranded Italians ride with us, to Santa Elena. The taxi took us right to our hotel, The Arcos Iris (rainbow) Ecolodge and we checked into our room, very nice cabin, secluded up on the hill all alone. We even had our very own Tico lawnmower outside - a goat!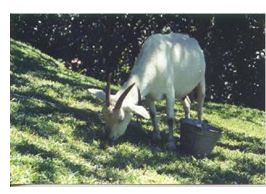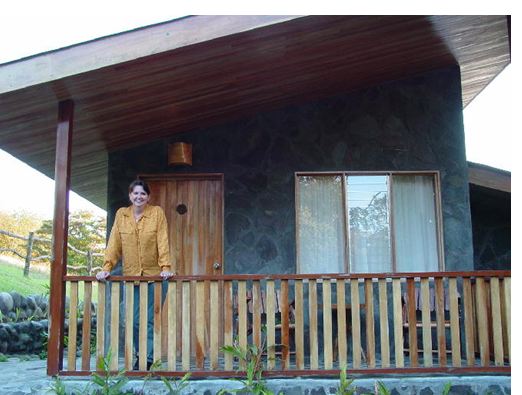 We decided we wanted to go see the Frog Pond, so we started to walk down the dirt road. The nice paving ends right at the edge of downtown and becomes that samekind of rough road we came in on. It was much nicer walking on it, than driving. We found the Frog Pond, but by now it was getting dark and we had our tour with flashlights. There are some incredible frogs out there. We saw poison dart frogs and the red-eyed tree frog, among others. There was an empty cage that as a tribute to the now extinct Golden Frog. We walked back into town by flaslight and did some grocery and souvenir shopping at the local grocery store. Once again, prices were very attractive. We had pizza for dinner – not too bad, but not as good as the other foods we were eating. That night, we lay out on a blanket under the stars, which were incrdible! We even thought we saw the space station and the shuttle Colombia, go by. All in all a great day and we had a very good night's sleep.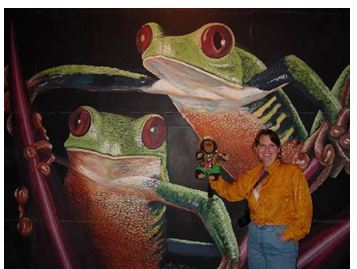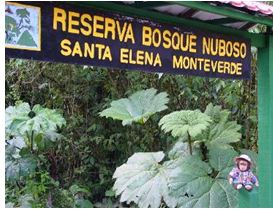 Sunday, February 2nd:
The good night's sleep ended very early, as we arose at 5:30 AM, to go get our breakfast and apparently we saw one of the few cats that were to be seen in this country., as we walked to the center of town (about 5 minutes). We found a little café that was open early for breakfast. While we were eating we noticed that the TV in the restaurant had the Spanish CNN report on and the captions read "La Tradegia del Columbia". At first we thought that something bad had happened in Colombia, but then Marty, who speaks fluent Spanish, quickly realized that it was all about the Space Shuttle Columbia. He told Nita, that it had exploded yesterday and for the next hour we all sat in silence and watched the story unfold. What an awful tragedy! Such great sadness. One of the restaurant people even changed the channel to the English speaking CNN, just for us, how kind of them.
We caught the 6:45 am transport to the Santa Elena Cloud Forest Reserve. It is called a cloud forest because as moist warm air is blown inland from the oceans (Pacific, Atlantic or Caribbean – Costa Rica has all three) the air rises up against the mountains and the moisture condenses into a fine misty cloud that keeps the forest moist and allows the unique vegetation there to flourish. Monteverde is right on the continental divide and is much higher than a rainforest – so no mosquitoes! Well, during our visit, there were no clouds or moisture at all. That was good from the stand point of comfort, but bad from the view point of wanting to see wildlife –they don't come out much when things are dry. So we did not see much in the way of white faced monkeys, leopards or other animals that live in the cloud forest. We did see some unique plant life, beautiful flowers and some bugs, like the stick bugs and a dung beetle. John, our tour guide, was able to see things we would have never found on our own. We got some pretty strange looks from others as we pulled Bongo out ,to get his picture swinging on the Tarzan vines, but they quickly warmed up to him. It was amazing to us how all the plant life strives to be the one on top, to get to the sunlight. Bromeliads and other plant life grow right on top of the branches of the trees and fight each other for the top place in the canopy. We also saw coffee plants, with red coffee beans – we never knew that coffee starts out red! We found a lot of fungus – from large mushrooms to a small fungus that attaches itself to leaves. After our tour, we took the van back down to Santa Elena... on that wonderfully rocky road.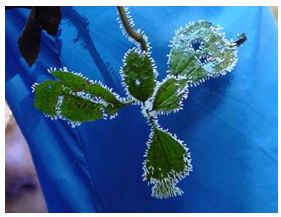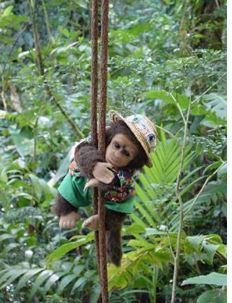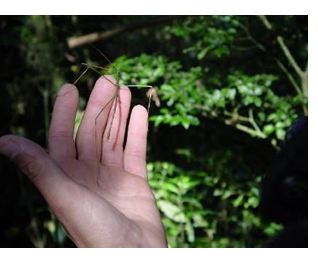 After having the same lunch that we had yesterday, because it was so tasty, we walked to the Monteverde Butterfly Farm. It was a longer walk than we thought it was going to be, but we finally made it. We learned a lot about the whole butterfly process and saw some beautiful butterflies. We saw the Owl Eye Butterfly, which also has the image of a snake on its wings for protection, the Blue Morpho, the Glass Wing, the Postman and a bunch of others. We saw some pretty incredible bugs as well. At one point they showed us a leaf cutter colony where we learned a lot more about them and how after they return to their nest, they do not eat the leaves – they just chew them up and spit them out. Then they eat the fungus that grows on the barf. There is a single queen, who is very large, and all of the ants exist for her pleasure. The only other species of ants they get along with, are the Army Ants. We learned more about the stickbugs, too. Did you know that they mate for up to 79 days without stopping? That is their main purpose in life. The different butterfly larvae (cocoons) are amazing. They come in every color, size and configuration. That is because their camouflage is their only defense. We decided to take a taxi back home – it was just too far to walk.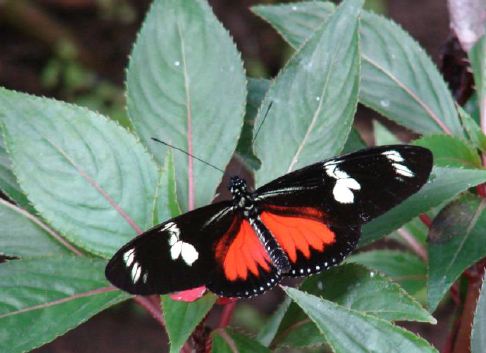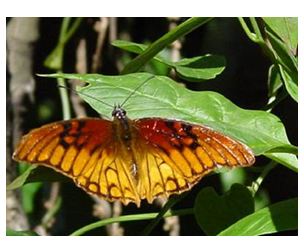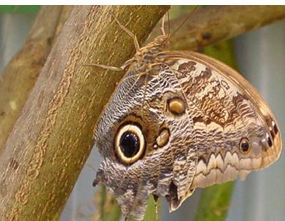 We stopped for Ice Cream and we we got back into town, we found a new friend. Nita fed a cute little dog a bit of her ice cream and she had made a friend for life! That dog followed us home and even slept on our welcome mat all night! We have never seen stars like the ones we saw that night. We laid a blanket out on the lawn again and just lay there for about an hour, pondering the universe and the loss of the Space Shuttle, from what seemed like a world away.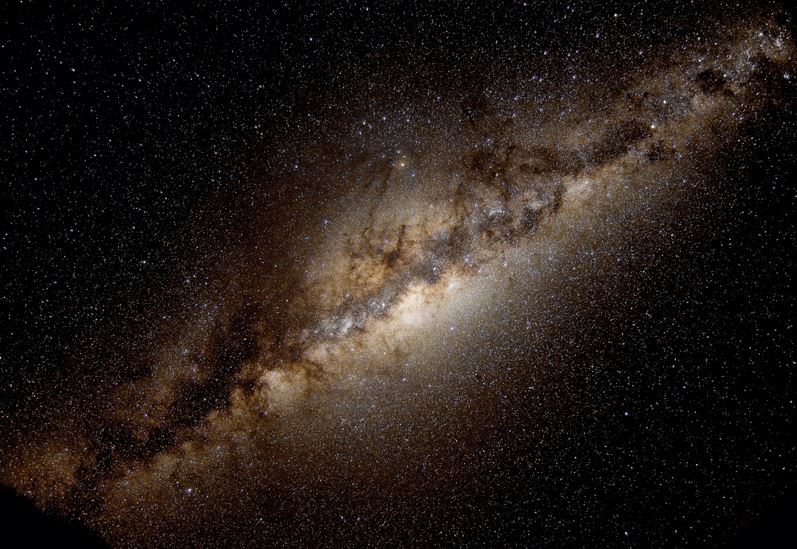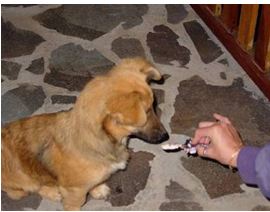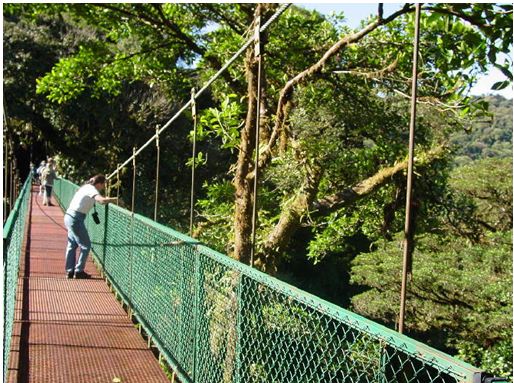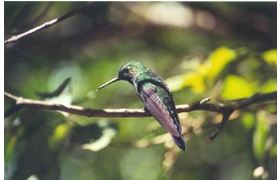 Monday, February 3rd:
It was finally time to do the "Canopy Thing". We caught a van to the Cloud Forest where we took a two hour hike through the canopy via a series of "Tree Top Walk Ways", that they have built. It was even more incredible seeing the bromeliads, lichens, liverworts, and mosses all growing in the top of the trees. We took the Selvatura Adventure, which has 8 walkways. After that, we spent about an hour in the hummingbird garden, waiting for our next adventure. There were so many hummingbirds! Over 100 hundred of them and over 14 species.
We had to put on special gear for the next part of the Canopy Adventure. There are 18 zip lines with 20 platforms and over 2 miles of cable. After suiting up in our security harnesses, we started an adventure of a lifetime. Nita did great and really enjoyed it. It was amazing to just soar over the canopy and the jungle. At each platform in the trees, we could stand there in the silence and hear and see all of the birds. On one platform we got to see a Quetzal bird – one of the rarest birds on earth and almost extinct. That was a real treat. The last cable was over 300 meters long and very fast. Nita went first and a little over half way she got turned around and caught her glove in the pulley. This stopped her right away and gave her a red badge of courage, a bloody scratched elbow. They had to come out to rescue her but we both had a great time.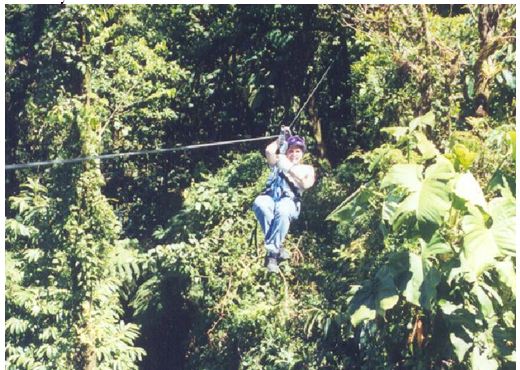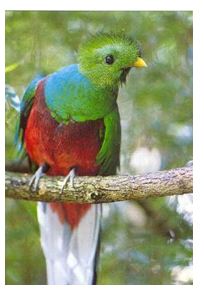 We returned to the Arco Iris and had a relaxing night, packing and getting ready to go home. We laid out and watched the stars again that night and the moon rose up as just a sliver – interestingly, the sliver of light was on the bottom of the moon, rather than on the side like it is at home!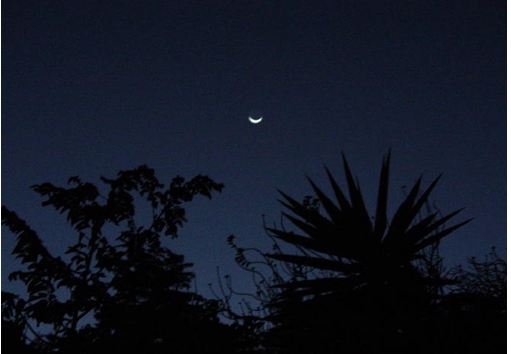 Tuesday, February 4th:
We caught the 6:45 bus to San Jose. This was a repeat of the bus trip from San Jose except that the roads were a lot worse! We did have a breakfast stop about an hour out of Santa Elena, which gave our bodies a much needed rest from the jostling and bumping and we had some good empanadas. We also got to visit with a cute green parrot. We arrived at the airport at about 1:00 pm and since our flight was not until 6PM, we planned on checking our luggage and then taking a taxi back into San Jose, to see a museum. But alas, Delta did not have anyone there that could check the bags, so we hauled them with us and we just checked them at the museum's coat room. The museum was kind of interesting and had some great pottery pieces, such as pot holders for cooking and painted handcarts. We left the museum long enough to have our last tico lunch and then grabbed our bags and returned to the airport.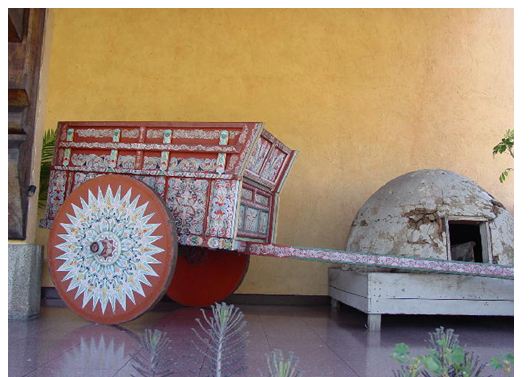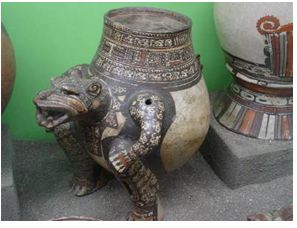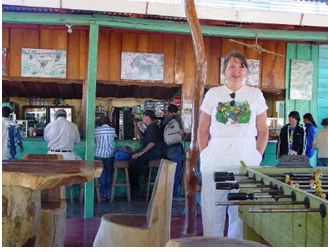 Our flight to Atlanta was uneventful. Once again, a nice meal and a free movie. Bongo was glad to be back in the United States. We had never taken his picture arriving in the US before. We had to stay over night in Atlanta since there were no connecting flights to Salt Lake that night. We were booked on a flight in the morning from Atlanta to Dallas to Salt Lake, but went standby on a direct flight and were home by about 2:00 pm. Of course, we came home to about 18 inches of snow in the driveway! It never fails, that if we leave town, it snows like crazy!